Community Healthy-Living Programs
Community Development and Capacity Building are key ingredients for the health and well-being of a population. This is particularly true for racialized and marginalized communities. It is only when a community is empowered, engaged, well-informed, and active that it begins to take ownership of its health and well-being. NECHC assists members of the community to address health issues and obtain the information they need to make appropriate choices and develop skills for a healthy lifestyle.
Access to the existing health care system is difficult and even impossible to access for many people living on the margins of society.
The North End Community Health Centre's Good Food Box program was developed in 2016 after hearing from our community that it was a struggle for many of them to access healthy food. This, in turn, was negatively impacting the health of NECHC patients.
The Good Food Box Program provides a box of fresh, healthy vegetables and fruit to community members each month, for a low-cost of $7 per box.
Although our primary participants are those who are not able to visit a grocery store or the Mobile Food Market, the Good Food Box is available to EVERYONE!
The "home base" for the Good Food Box program is currently out of our location on 5527 Nora Bernard St (formally Cornwallis). This space allows room for us to sort the produce, store produce when needed, and provides a convenient pick-up location. We also deliver to Veith House, Gordon B Isnor Manor (5565 Cornwallis Street), Ahern Manor (2313 Gottingen Street), the Community Health Teams (6080 Young Street) and Mulgrave Park.
Even at this low cost, some community members cannot afford to take part, therefore in 2017 we reached out to our supporters through a Holiday Fundraising Campaign and were able to subsidize the cost and provide boxes to community members at no cost. Recently, we have put the message out there to 'Buy a Box & Donate a Box" for additional funds.
By making good, healthy food more accessible in the community we are helping to level the inequalities to health that members of our community face.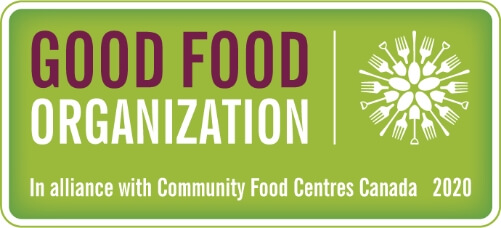 Place your order for the next Good Food Box
Building Partnerships
To increase our reach and make the program more accessible to everyone in our community, the Good Food Box has created a partnership with Salvation Army Open Arms located in Uniacke Square. The partnership is very simple:
Open Arms staff takes good food box orders, collects money, and reports final order number to NECHC 2 days before delivery.
On delivery day, NECHC delivers the boxes to Open Arms in the afternoon and they distribute.
If you're interested in partnering with NECHC's Good Food Box, please contact: