North End Community
Full-service Health Clinic
Primary health care is the first point of contact a person has with the health system. Our interdisciplinary team of physicians, nurse practitioners, nurses, social workers, crisis counsellors, dietitians and others collaborate to provide services and programs to our clients.

Working together, our team responds to the factors that impact the health and well-being of our clients. They ensure that our clients receive the best possible care.
Primary care includes the prevention, diagnosis, treatment and follow-up of various health conditions, including referrals to specialists and diagnostic services.
Few measures in medicine are of such proven value against infectious diseases and as easy to implement as are immunizations. Immunizations carried out as recommended will provide good basic protection for most children against the many diseases. Following a provincial schedule ensures that the maximum available protection is achieved. Sometimes modifications of the recommended schedule may be necessary because of missed appointments, illnesses or transferring from other countries.
Our qualified healthcare professionals can discuss the provincial schedule of immunizations with you and coordinate times to immunize your child here at NECHC.
Monday – Friday, 9-10am
Our nurses do blood and other specimen collections for our clinic patients by booked appointments on Monday to Friday from 9 to 10am. On Tuesdays and Fridays, we may offer this service at other hours. Call to book an appointment if you are an active patient and have a requisition from your provider.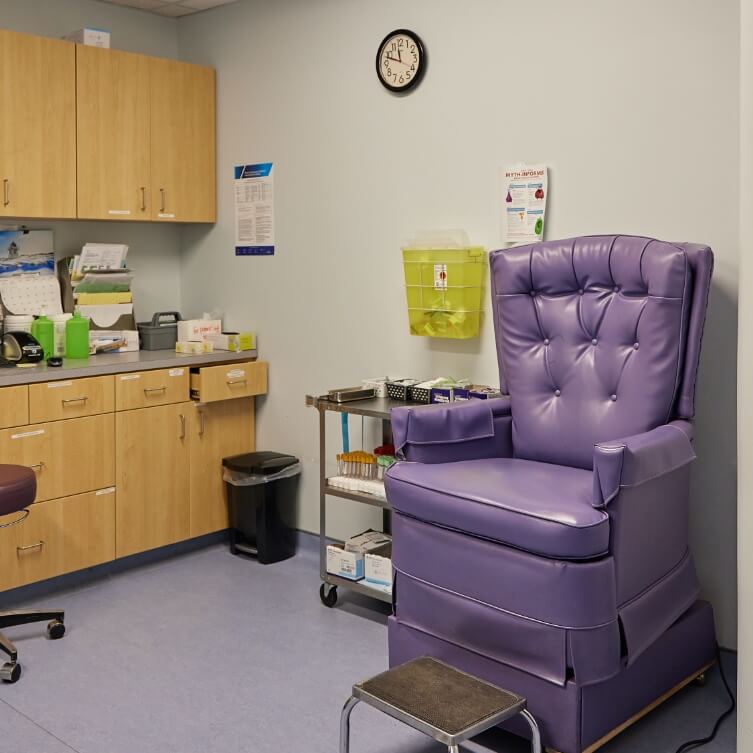 A mental health drop-in program where community members can access a 45 minutes counselling session on a first-come first-served basis.
Nutrition is the cornerstone of good health and well-being. A Registered Dietitian is a licensed, regulated practitioner who follows a science-based approach to nutrition. NECHC's Registered Dietitian will work with you every step of the way to provide the knowledge, support, encouragement and accountability to help you meet your unique health goals.
Our Registered Dietitian provides nutrition counselling for individuals at all stages of life. 
Our Registered Dietitian can work one-on-one with you to provide realistic, proven strategies to help manage and prevent conditions such as diabetes, high blood pressure, obesity, celiac disease, and irritable bowel syndrome.
Areas of focus:
General healthy eating and lifestyle
Weight management – weight loss/gain
Emotional eating
Prevention or management of chronic disease
Menu planning for busy families
Budget planning to stretch your food dollars
Digestive problems
Vegetarianism
Food allergies
Healthy pregnancy
Infant/child nutrition – picky eating


Primary Care Contact
Daytime (Monday to Friday)
9am–12pm, 1pm–5pm
Call for appointment.
After Hours (24/7):
For registered patients we offer on-call services
for urgent care that cannot wait until the next day.
Blood Clinic
Monday-Friday
9am-10am
Our Health Heroes
"(The North End Community Health Centre) is a true community health centre in the sense that it was a group of people around a kitchen table that discussed the idea and got it started, so it originates directly from the community because of the need."
Dr. John Fraser
NECHC Physician