Metro Turning Point Centre
Metro Turning Point is a shelter for men experiencing homelessness. We offer support services from a guest centered approach.
A Supportive Housing Program is available on site, and men residing in the shelter can self-refer.
A trusteeship program is also operated from Metro Turning Point which provides financial support services and money management to men and women living in the HRM.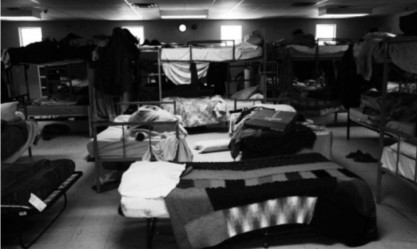 GETTING A BED
If a man is experiencing homelessness, and does not have the means to secure housing elsewhere, he may call at any time (902.420.3282) to determine if there is a bed available. If there are no beds available at that time, please encourage the person you are working with to arrive at Metro Turning Point (2170 Barrington Street) at midnight any day of the week, because beds are reassigned each day.
Guests who are registered at the shelter are required to re-register each day at midnight. Guests must remain on property from midnight to 6am in order to secure their assigned bed.
ONSITE RESOURCES
Please call for more information about the availability and schedule of onsite resources.
Shared Care Mental Health:   Provides one-on-one mental health support and referral to services.
Income Assistance worker:     Provides assistance to people in accessing income assistance.
Supportive Housing Program: A transitional housing program of Metro Turning Point that supports for people needing extra help with housing – ask for more details at Metro Turning Point.
Gender:
Male Shelter (trans welcome)
Intake:
Yes – ID requested but not required
Sleeping arrangements:
Shared, dormitory-style
Accessible:
Yes – Guests must be able to perform their own personal care
Showers:
Yes – toiletries provided, towels as available
Meals:
Daily: breakfast/brunch, snacks as available, and supper
Laundry:
Yes – free to guests
Medication storage:
Yes** (but may be provided by MOSH)
Preferred pharmacy:
Compass
Drug and alcohol use:
Behaviour-based philosophy***
Trustee program:
Yes – 902.420.3282 – ask for Trustee Worker
Housing Support Centre:
902.420.3282
* Guests with income may be subject to comply with income savings plan to assist with their transition. Please call Metro Turning Point and ask. ** Medications must be turned in to staff for storage. Staff secure them in the office but will not dispense medications. Guests have access to their medication on request and control their medication dosing. Staff will contact healthcare professionals, including MOSH, if they are concerned regarding misuse of prescribed medications. *** No drug or alcohol use on site. However, guests are welcome to access the shelter while under the influence as long as they can manage their behaviour and be respectful of themselves and others in the space. All drug use paraphernalia and re-sealable alcohol must be turned into staff – staff will hold this and return it to guests upon their request when they leave, if it is deemed safe for them to do so. Sharps disposal available upon request.
MOSH hours: M – 2:00-4:30pm/W – 7:00-8:00am/F – 6:30-8:00pm