AKA "Adsum" or "the Women's Shelter on Brunswick"
Adsum for Women and Children's mission is to support women and children and female youth who are homeless or at risk of homelessness in a client-centered, non-judgmental way; to provide services and housing – from crisis to stability – through short and longer term housing, programs and resources that offer safety and an opportunity for growth; and to advocate for women and children and to work to eliminate poverty and the societal conditions that create homelessness. Adsum House provides safe shelter, housing, services and support to female youth and adults age 16 and older.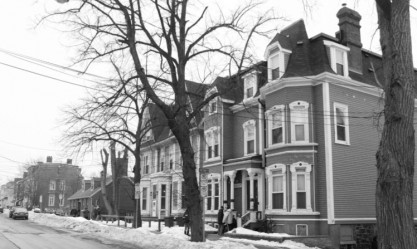 GETTING A BED
To find out more about Adsum House's programs and services or to find out if this is the right place for someone you are working with call Adsum House staff – they can fax or email or read the admission criteria to you over the phone. Contact Adsum House at 902.423.4443 or 902.429.4443 or adsumcentre@adsumforwomen.org
Clients who are registered at the shelter are required to re-register each day between 4pm-6pm, and must be in the building between midnight and 6am to guarantee their bed. There are some exceptions to this rule.
ONSITE RESOURCES
Please call for more information about the availability and schedule of onsite resources.
Community Outreach: Women from the community can visit Adsum House for up to two meals a week and to use our computers and phone. Visitors must call ahead if wanting to stay for a meal.
Income Assistance Worker: Provides support to people in accessing income assistance.
* Residents with income may be subject to comply with income savings plan to assist with their transition. Please call Barry House and ask. ** Medications must be turned in to staff for storage. Staff secure them but will not dispense medications. Residents have access to their medication on request and control their medication dosing. Staff will contact healthcare professionals, including MOSH, if they are concerned regarding misuse of prescribed medications. *** No drug or alcohol use on site. However, guests are welcome to access the shelter while under the influence of intoxicants as long as they can manage their behaviour and be respectful of themselves and others in the space. All drug use paraphernalia and re-sealable alcohol must be turned into staff – staff will hold this and return it to guests upon their request when they leave, if it is deemed safe to do so. Sharps disposal available upon request.
Gender:
Women, transgendered
Intake:
Yes – no ID required
Pay-per-night:
Yes – must eligible for income assistance*
Sleeping arrangements:
Shared rooms
Accessible:
No – must be able to climb stairs
Daytime access:
Yes – for residents; at times visitors can access services**
Children welcome:
Yes – girls of any age and boys who are under 13 years old
Showers:
Yes – toiletries and towels available
Meals:
Yes – Breakfast – Lunch – Dinner daily for residents
Laundry:
Yes – free to guests
Clothing bank:
Yes*** – donations accepted 24/7 at main address
Preferred pharmacy:
Forest Hills delivers – call- in prescriptions: 902.889.2733
Drug and alcohol use:
Behaviour-based philosophy****
Trustee program:
No – but can help residents access trustee services
Intake line:
902.420.3282
24/7 Crisis
Line:
902.423.4443/902.429.4443
Social worker coordinator:
902.429.5129
Social worker:
902.425.3177 please contact with guest permission to discuss
MOSH hours: Tue 5:00-6:45pm/Thu – 9:00-11:00am